Spatial Analysis for Geology
Aim
Modern exploration for georesources is based on the spatial quantification of all those geological parameters relevant to the formation of mineral deposits. The students will obtain knowledge of the methods that can be applied to the formulation of mineral potential maps for a given region.
Content
Mineral deposits are considered products of complex mineral systems, which can be described by a number of parameters that vary in space and time. Various methods of spatially quantifying these parameters and integrating them into mineral potential maps will be discussed and applied with the help of conventional GIS software.
Coding
Coding examples and individual work will be covered
Software
Various software programs will be used, but mainly OpenSource software such as R.
Techniques
Different techniques will be introduced and practically applied.
Content
The content of scientific with regard to the audience will be discussed.
General Course News and Updates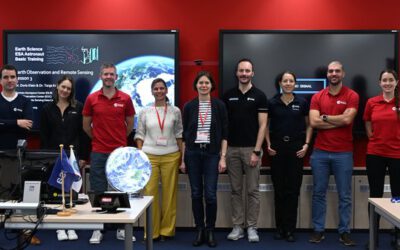 One of our EAGLE lecturer; Dr. Doris Klein, is not only teaching remote sensing to our international EAGLE students but also to future astronauts! Great to see that earth observation is also trained within other disciplines than our own specific remote sensing MSc....
read more