Applications of Earth Observation
04-GEO-TB2
Lecturer
Jakob Schwalb-Willmann
ECTS
5 ECTS
Aim
In this lecture you will gain a broad overview of the applications of remote sensing. Examples from different disciplines and applied Earth Observation projects will provide your with a comprehensive understanding of if, where and how remote sensing can contribute to qualitative and quantitative assessments of the cryosphere, forest ecosystems, agro-ecosystems, the coastal zone and urban ecosystems; amongst others. We will evaluate the potential of passive and active sensor systems and adress the advantages and shortcomings of existing sensors in the optical / mutlsispectral, thermal and microwave domain.
Content
This lecture provides knowledge on applications of Earth Observation with a focus on remote sensing of the land surface. Which research questions of different disciplines can be answered by the means of Earth Observation? What are the main approaches? The module links up remote sensing measurements to geo- and biophysical parameters required for further geoanalysis. Commonly used methodological approaches for the derivation of the different parameters are presented. Examples include amongst others applications in geography, environmental planning, ecology, biology, oceanology, soil science, geology, atmospheric science, but also e.g. pollution control (monitoring) and natural resource management. In addition, the module outlines selected examples, how remote sensing technology can be transferred to the workplace of professionals also beyond science, e.g. via the use of geoinformation systems.
General Course News and Updates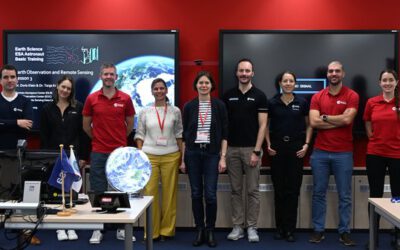 One of our EAGLE lecturer; Dr. Doris Klein, is not only teaching remote sensing to our international EAGLE students but also to future astronauts! Great to see that earth observation is also trained within other disciplines than our own specific remote sensing MSc....
read more