Aim
The students will learn to design scientifically relevant presentations.
Presentations, approaches and layouts as well as programs will be discussed with regard to its scientific content and goal to ensure high quality presentations and dissemination of relevant information.
Content
Visual scientific presentation skills will be taught. Existing presentations will be discussed and evaluated with regard to visual appearance, scientific content and dissemination. Moreover design and appearance of presentations and poster will be discussed and guidelines provided. Individual training of presentations using a variety of programs will be part of it as well. Alternative presentation methods will be introduced (e.g. knitr, beamer).
Coding
Visual as well as coding approaches for presentations are covered
Software
Various software programs will be used, but mainly R with knitr, markdown, slidify etc. or Latex Beamer
Techniques
Different visualisation, oral presentation as well as preparation techniques will be introduced and practically applied.
Content
Theoretical and practical background of scientific presentations and their underlying assumptions and software are covered
General Course News and Updates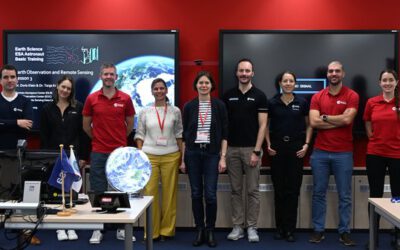 One of our EAGLE lecturer; Dr. Doris Klein, is not only teaching remote sensing to our international EAGLE students but also to future astronauts! Great to see that earth observation is also trained within other disciplines than our own specific remote sensing MSc....
read more