Scientific Graphics
04-GEO-SOS1
Aim
Designing scientific graphics that provide all necessary information without being too packed, focusing on the essential message and being able to actually create such graphics will be covered In this class. All necessary tools and and approaches to create adequate figures and maps will be covered.
Content
General guidelines of scientific graphics and maps will be covered based on e.g. Tufte and followed by practical implementation of graphic ideas, as well as critical evaluation of the results. Only open source program will be used such as R or tikz/pgf and students will have the opportunity to work specifically on certain scientific graphics or maps using e.g. ggplot2 and explore the potential and limits of good scientific graphs. Good map designs will be discussed as well and common mistakes will be pointed out. After this course you will be capable to create your own graphics for a specific scientific purpose e.g. your M.Sc. thesis.
Coding
Coding examples and individual work will be covered
Software
Various software programs will be used, such as R or tikz/pgf
Techniques
Different visualization techniques will be introduced and practically applied.
Content
The goal of scientific graphics with regard to the audience will be discussed.
General Course News and Updates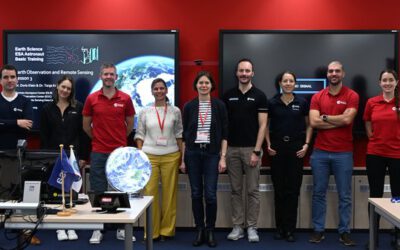 One of our EAGLE lecturer; Dr. Doris Klein, is not only teaching remote sensing to our international EAGLE students but also to future astronauts! Great to see that earth observation is also trained within other disciplines than our own specific remote sensing MSc....
read more