Application of UAV data in Remote Sensing
Aim
The potential and challenges of Unmanned Aerial Vehicles for monitoring our environment is covered using theoretical as well as practical approaches.
Content
In recent years, the use of small Unmanned Aerial Vehicles (UAV, UASs or also called Drones) inceased to map and monitor our environment at unprecedented detail. The development of new multispectral instruments on UAVs have given the remote sensing community exciting opportunities to acquire new data. With these new opportunities also new challenges such as sensor calibration, georeferencing as well as processing workflows, calibration/validation,  and derivation of relevant land cover information. The course will cover theory and practice to apply UAVs in environmental research and its use for remote sensing analysis.
Coding
Coding examples and individual work will be covered
Software
Various software programs will be used, but mainly OpenSource software such as R.
Techniques
Different techniques will be introduced and practically applied.
Content
The content of scientific with regard to the audience will be discussed.
General Course News and Updates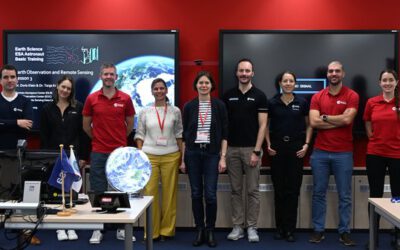 One of our EAGLE lecturer; Dr. Doris Klein, is not only teaching remote sensing to our international EAGLE students but also to future astronauts! Great to see that earth observation is also trained within other disciplines than our own specific remote sensing MSc....
read more