Spatial Modeling and Prediction
04-GEO-MET1
Aim:
Within this course different methods to analyse point pattern statistically and conduct a spatial prediction are covered. Students will learn how to design such analysis, how to avoid caveats, troubleshoot errors and interpret the results.
Content
Different statistical methods will be applied for analysing spatial point patterns, such as vegetation samples or biodiversity related information. These results will be statistically predicted using methods such as GLM, GAM, Random Forest or MaxEnt. Implications of spatial point patterns as well as chosen environmental parameters will be discussed. All methods will be practically applied during the course using the programming language R. The needed pre-requisites are covered in the course "Applied Programming for Remote Sensing and GIS".
Coding
Coding examples and individual project work
Software
Various software programs will be used, but mainly OpenSource software such as R and GRASS.
Techniques
Different techniques will be introduced and practically applied such as randomForest, GAM or MaxEnt
Content
The theory and practice of spatial modeling with a focus on ecology and conservation
General Course News and Updates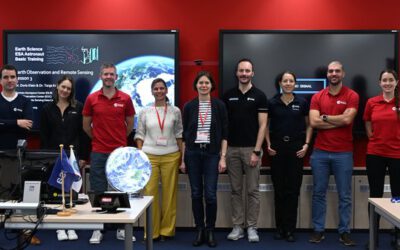 One of our EAGLE lecturer; Dr. Doris Klein, is not only teaching remote sensing to our international EAGLE students but also to future astronauts! Great to see that earth observation is also trained within other disciplines than our own specific remote sensing MSc....
read more