Digital Image Analysis and GIS
Aim
This course provides detailed knowledge of programming or coding using spatial data, especially for remote sensing and GIS tasks.
Content
Different spatial programming approaches are covered using actual remote sensing and GIS data to enable the students to apply a variety of methods in a semi-automatic manner for remote sensing data analysis. All methods will be practically applied during the course using the programming language R and maybe other programs such as GRASS, SAGA, QGIS or OTB. This course continues where the "Programming and Geostatistics" courses stopped and is considered a prerequisite. Both courses are tightly linked
Coding
Coding for specific spatial data tasks are covered
Software
Various software programs will be used, but mainly OpenSource software such as R.
Techniques
Different spatial data coding techniques will be introduced and practically applied.
Content
Coding exercises for the analysis of spatial data sets
General Course News and Updates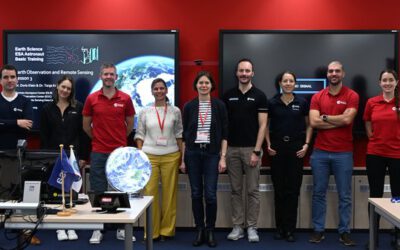 One of our EAGLE lecturer; Dr. Doris Klein, is not only teaching remote sensing to our international EAGLE students but also to future astronauts! Great to see that earth observation is also trained within other disciplines than our own specific remote sensing MSc....
read more